Our Inspiration: Mr. Enoch Olinga
Mr. Enoch Olinga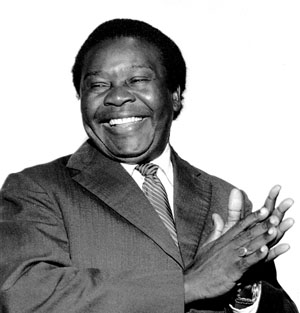 The Olinga Foundation is dedicated to the memory of Enoch Olinga, who in 1952, in his native Uganda, was one of the first Africans to accept the Baha'i Faith, and dedicated his life to the service of humanity. In this regard, his travels took him throughout Africa, as well as to India, Southeast Asia, Australasia, the Pacific islands, the Americas and Europe.
He had a very strong connection with West Africa, where he lived and worked for a large part of his life. Fluent in six languages and trained as an economist, he was the author of two books, as well as "Social and Economic Problems - Their Solution". But it is for his radiant spiritual qualities that Enoch Olinga is most remembered.
Enoch Olinga was particularly concerned with the education of children. Therefore, it is in his memory that The Olinga Foundation was formed to promote universal basic education, the empowerment of junior youth and to build the capacities needed to carry forward an ever-advancing civilisation on the African continent.
Excerpt from a Cablegram Announcing Enoch Olinga's Passing:
WITH GRIEF-STRICKEN HEARTS ANNOUNCE TRAGIC NEWS BRUTAL MURDER DEARLY LOVED GREATLY ADMIRED HAND CAUSE GOD ENOCH OLINGA BY UNKNOWN GUNMEN COURTYARD HIS KAMPALA HOME... MOTIVE ATTACK NOT YET ASCERTAINED. HIS RADIANT SPIRIT, HIS UNWAVERING FAITH, HIS ALL-EMBRACING LOVE, HIS LEONINE AUDACITY IN THE TEACHING FIELD, HIS TITLES KNIGHT BAHA'U'LLAH FATHER VICTORIES CONFERRED BELOVED GUARDIAN, ALL COMBINE DISTINGUISH HIM AS PRE-EMINENT MEMBER HIS RACE IN ANNALS FAITH AFRICAN CONTINENT. URGE FRIENDS EVERYWHERE HOLD MEMORIAL GATHERINGS BEFITTING TRIBUTE HIS IMPERISHABLE MEMORY...

THE UNIVERSAL HOUSE OF JUSTICE
SEPTEMBER 17, 1979